Electric vehicles 7.1 percent of new U.S. vehicle sales in Q3 – 2.1 percentage points above same period 2021
86 electric models available for sale in U.S. – light truck sales almost 70 percent of EV market
98,000+ public EV chargers now available – millions more ports needed to meet anticipated demand
WASHINGTON, DC – Alliance for Automotive Innovation today released its latest analysis of the U.S. electric vehicle (EV) market for July, August and September of 2022. The Get Connected Electric Vehicle Quarterly Report for Q3 summarizes EV sales, purchasing trends and public charging infrastructure across all 50 states.
Q3 2022 takeaways:
EVs represent 7.1 percent of new light-duty vehicle sales in Q3, up from 6.6 percent in the second quarter and 4.9 percent in Q3 2021;
More than 232,000 EVs were sold in the U.S., an increase of 2.1 percentage points over the same period in 2021;
86 EV cars, utility vehicles, pickups and van models now available for sale in the U.S. (light truck sales represent more than 68 percent of EV market);
Total of 98,804 public charging outlets in U.S.; (context: 652,000 EVs registered since beginning of 2022 and only 20,000 new chargers – a ratio of 32 vehicles for every public port);
Top five for EV sales through the first three quarters of 2022: California (18.9 percent); the District of Columbia (13.4 percent); Washington state (11.1 percent); Oregon (10.4 percent) and Nevada (9.4 percent);
EVs nearly one percent of all registered light-duty vehicles on U.S. roads.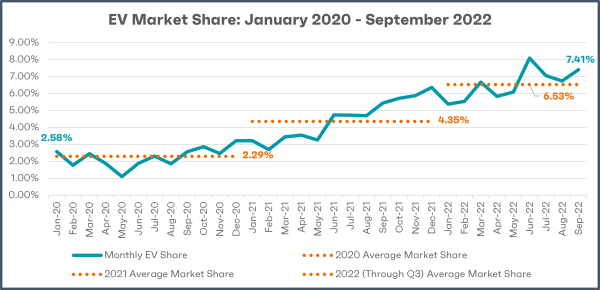 Automakers have already committed more than $100 billion to expand the production of EVs and batteries inside the U.S. and across North America.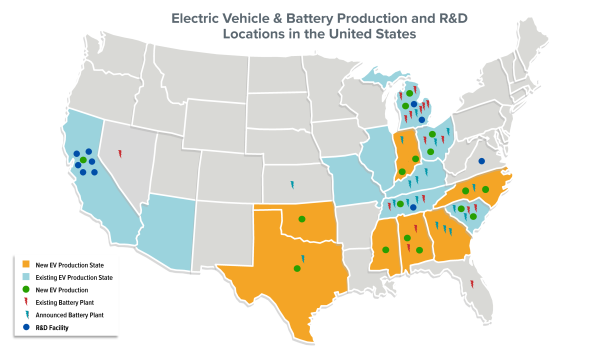 Read the Q3 2022 Get Connected Electric Vehicle Quarterly Report.
More auto industry data in The Driving Force economic impact report (2022):
The U.S. is not adding publicly available EV charging fast enough, especially as EV sales continue to grow. Seventy-three percent of U.S. counties (2,319) have fewer than five publicly available charging ports per 10,000 vehicles and 59 percent of U.S. counties (1,871) had one or none per 10,000 vehicles;

As of mid-2022, there were nearly 20 million EVs on the road around the world, and global sales of EVs in 2021 set a new record: 6.6 million.