RV INDUSTRY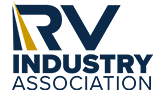 With offices in Reston, VA and Elkhart, IN, the RV Industry Association is the leading trade voice of the $114 billion dollar RV industry, representing approximately 400 manufacturers and component and aftermarket suppliers who together produce 98 percent of all RVs made in the United States, and approximately 60 percent of RVs produced worldwide.
The association works with federal and state lawmakers and regulators to pursue a favorable business environment for its members, is the leading source of research, data, and analysis about the RV industry, and seeks to grow and expand the RV consumer market while cultivating a positive experience for current RVers.
The association also maintains an inspection program that audits the compliance of RV manufacturers to plumbing, heating, fire and life safety, and electrical systems codes and provides an ongoing Federal Motor Vehicle Safety Standards education program for its members, as well as training clinics for RV service technicians.
Related Posts
Loading posts...