Five-fold increase in four years; 30 percent increase from 2022
Technology notifies caregivers when a child is left unattended in the vehicle
Major progress toward industry commitment to install systems in new vehicles by 2025
WASHINGTON, DC – Alliance for Automotive Innovation today released a 2023 report on the auto industry's progress toward universal rear seat reminder systems in new vehicles by 2025.
Data indicates more than 215 new vehicle models on the market today include the lifesaving rear seat reminder technology as standard or optional equipment – a five-fold increase in four years and a 30 percent increase over 2022.
John Bozzella, president and CEO of Alliance for Automotive Innovation, said: "Automakers set a goal to have universal rear seat reminder systems in new vehicles by 2025. We know the technology can help save lives by alerting parents or caregivers when a child is left in the rear seat of a vehicle. More than 215 vehicle models have this lifesaving technology today – a five-fold increase in just four years. Major vehicle safety progress."
According to the National Highway Traffic Safety Administration (NHTSA), 33 children died from pediatric vehicular heatstroke in 2022.
Rear seat reminder systems can help prevent pediatric heatstroke that can occur when a child is left unattended in a vehicle.
These systems include:
An end-of-trip reminder system that provides a visual and audible alert when occupants are present in the rear seat after the vehicle is turned off;

Occupant sensing, which works by detecting motion in the rear row of the vehicle and provides similar alerts to the driver.
Participating manufacturers signed the automotive industry's voluntary commitment to install rear seat reminder systems in most new cars by 2025.
Read the report: Helping Prevent Pediatric Heatstroke Through Rear Seat Reminder Systems (October 2023).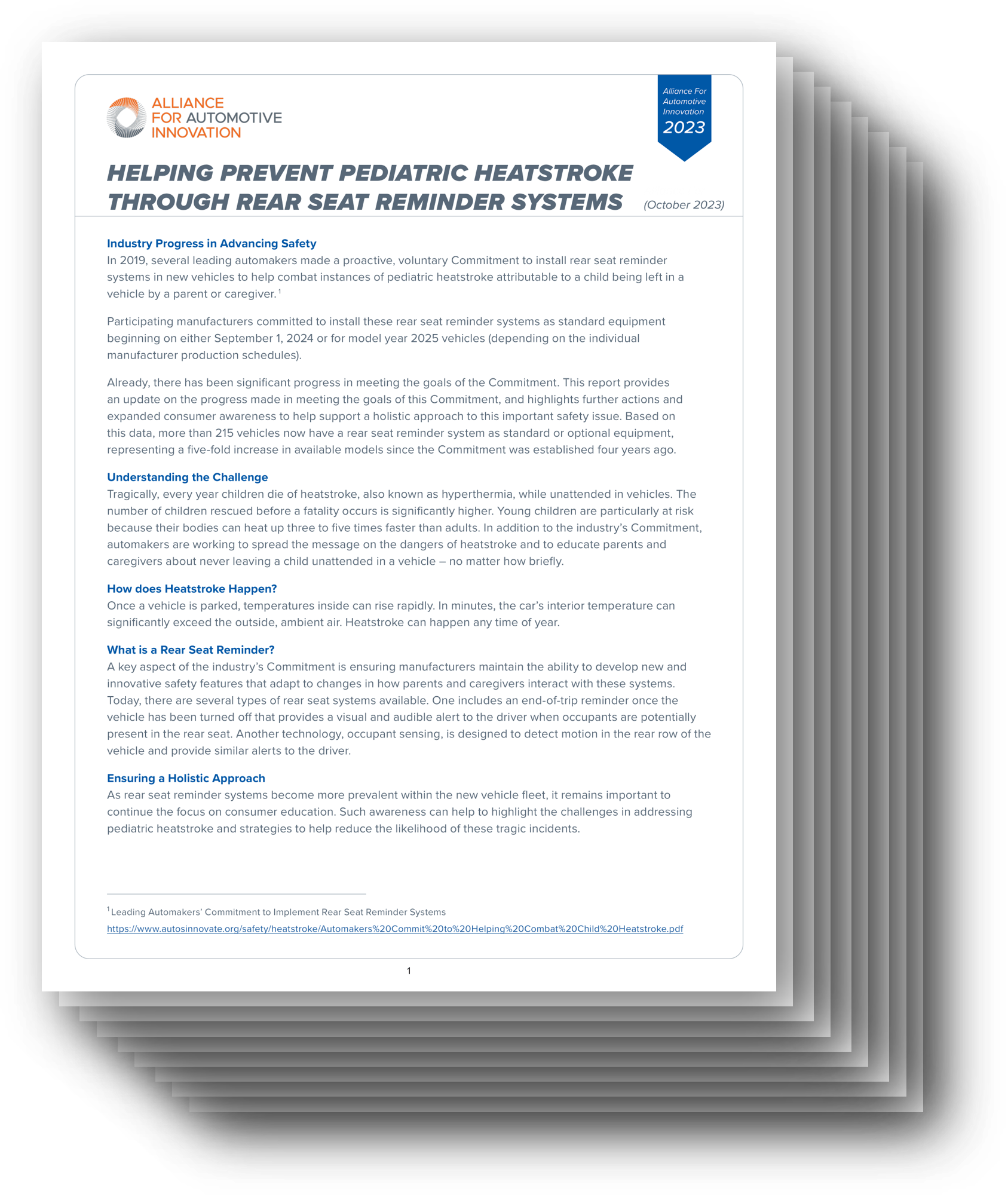 Alliance for Automotive Innovation continues to raise public awareness about the dangers of pediatric heatstroke, including:
Urging the Federal Communications Commission to

approve

higher-powered mobile radar operations in the 60 GHz band (greenlit May 2023);
An

education campaign

with the Washington Nationals;
A

heatstroke prevention website

with safety resources;

A digital advertising campaign in several of the hottest states in the country.