Controls & Driver Focus Aids
Controls and driver focus aids can help you drive better in all kinds of situations.
Integrated Systems
Integrated Systems help drivers keep their eyes on the road and hands on the wheel through special controls on steering wheels, optimized screens, voice command systems, hands-free calling, and concierge services
Real-Time Navigation
Real-time navigation allows drivers to re-route around traffic and congestion, saving fuel and reducing carbon emissions.
Warning and Alert Systems
Warning and alert systems use sensors, such as radar and cameras, to detect objects and give drivers an audible, visual or haptic warning.
Blind Spot Monitoring warns the driver that another vehicle is in the lane beside the vehicle.
Lane Departure Warning detects lane markings on a roadway and notifies the driver if he or she drifts out of his or her lane.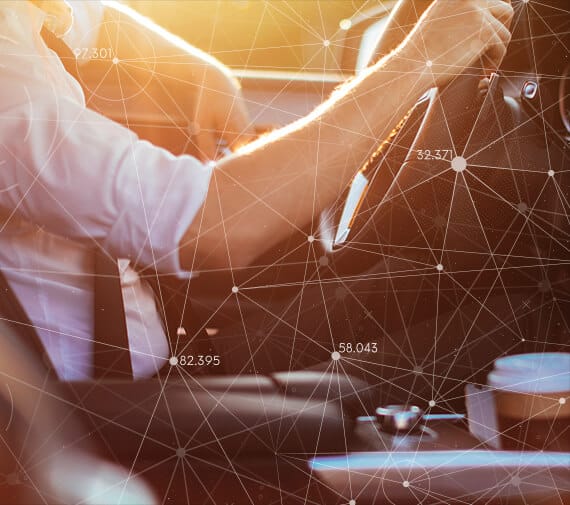 Active Controls
Active controls can engage automatic, temporary braking and may allow you to turn them off or control their sensitivity. Adaptive Cruise Control automatically keeps a safe distance from the car ahead, keeping traffic running smoothly with less braking and accelerating. Automatic Braking technology Automatic braking technology helps drivers avoid crashes or reduce crash severity, and fewer fender benders improve fuel economy since drivers spend less time idling in traffic.
What Makes Driver Assists Work?
1. RADAR
Detects objects nearby & in "blind zones"
2. LANE-KEEPING CAMERAS
Measure contrast between road and lines
3. INFRARED CAMERA
Detects objects ahead in the day & night
4. VISIBLE LIGHT CAMERA
Detects & predicts movement of objects
5. GPS NAVIGATION
Tells the vehicle where to go
6. WHEEL-MOUNTED SENSORS
Measure velocity relative to nearby objects