First-of-its-kind partnership to raise awareness about the dangers of hot cars and save lives
WASHINGTON, DC – The Alliance for Automotive Innovation (Auto Innovators) today announced a first-of-its-kind partnership with the Washington Nationals to raise awareness about the dangers of pediatric heatstroke this summer and share tips to prevent it.
According to the National Highway Traffic Safety Administration (NHTSA), "over 900 children died of heatstroke since 1998, because they were left or became trapped in a hot car."
For the peak summer months of July and August, the Washington Nationals and Auto Innovators will run a multimedia campaign in and around Nationals Park reminding parents and caregivers to "look before you lock" and ask "where's baby?" to help ensure no child is left unattended in vehicles this summer.
"Thank you to the Washington Nationals for teaming up with automakers on this breakthrough campaign to raise awareness about the danger of pediatric heatstroke," said Auto Innovators President and CEO, John Bozzella. "Automakers are developing innovative technologies to help address this challenge, but we're also committed to educating the public. With the help and leadership of the Nationals, Auto Innovators is reminding everyone: never leave a child unattended in a car and always look before you lock."
The campaign will run during home games at Nationals Park on five video boards outside of the ballpark, on the in-park scoreboard, through programming on the in-park television network, and on parking garages at the ballpark. Images of the advertisements can be found below.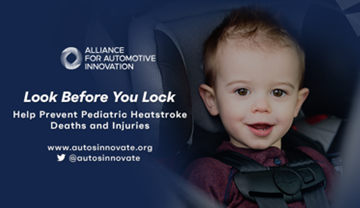 This campaign is one of many initiatives Auto Innovators has undertaken to raise awareness around pediatric heatstroke, including a heatstroke prevention resource page, a digital advertising campaign in several of the hottest states in the country, and a webinar with automakers and regulators about ways to prevent pediatric heatstroke.
In addition to efforts to raise public awareness, the automotive industry has voluntarily committed to install rear seat reminder systems in most new cars by 2025.