WASHINGTON, DC – The Alliance for Automotive Innovation released the following statement after both the House and Senate passed $52 billion to fund the CHIPS Act to increase semiconductor manufacturing capacity in the United States. The legislation now heads to President Biden's desk where he is expected to sign it.
Auto Innovators President and CEO John Bozzella said: "By now, we're all aware of how the pandemic shattered global supply chains and accelerated a worldwide shortage of semiconductors that continues today. You can draw a straight line from that original disruption in 2020 to the still-tight inventories and multiyear drop in auto production and sales in the United States.
"The CHIPS Act is about looking ahead and prepping our key supply chains for whatever comes next. That starts with a larger supply of American-made chips. Considering the computing power of today's increasingly digital and connected vehicles, this bipartisan investment in domestic semiconductor manufacturing is a smart investment in the future.
"Other countries are taking aggressive steps to get ahead of the United States on semiconductor production. By investing in American-made chips today, our country will be in greater control of its own destiny tomorrow – not to mention less reliant on foreign suppliers and governments.
"Thank you to Congress for the bipartisan leadership and for prioritizing job growth, economic security, stronger supply chains and American tech leadership."
Background:
The pandemic kicked off a global supply chain crisis that created a major automotive inventory shortage that continues today. The lack of semiconductors alone prevented 1.5 million vehicles from being produced in the U.S. last year, which impacted manufacturers and suppliers and assembly plant workers and left many dealers with empty lots.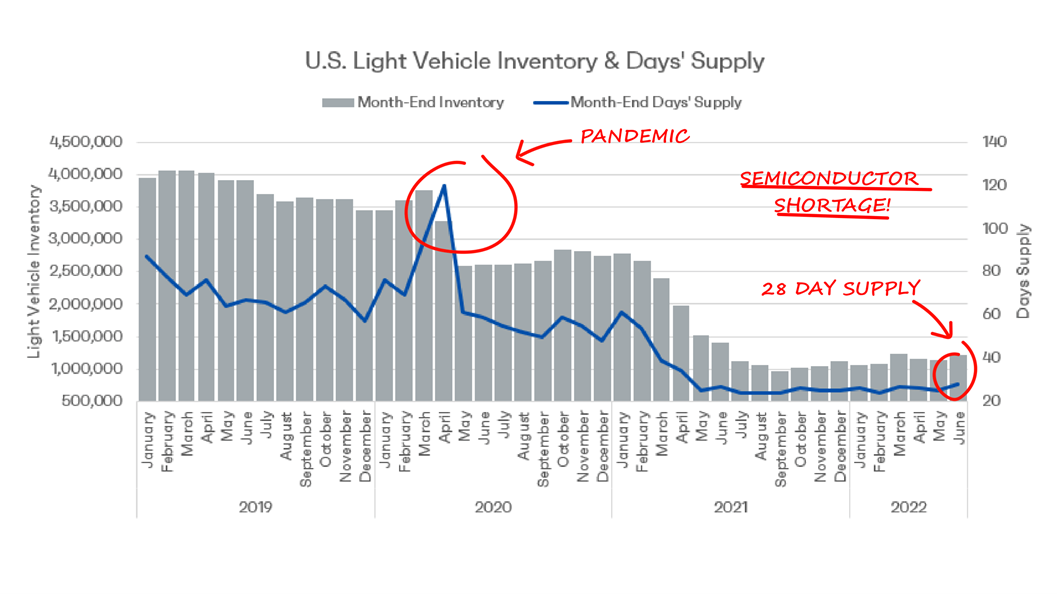 · Average nationwide supply of vehicles in 2019: 69 days.
· Average nationwide supply of vehicles in 2021: 32 days.
· Current nationwide supply of vehicles (as of June 2022): 28 days.
Related reading:
June 22, 2022: Auto CEOs to Congress: Semiconductor Funding 'Critical' to U.S. Competitiveness