Electric vehicles now 6.6 percent of new vehicle sales in U.S.; 100,000+ public EV chargers now available
More charging infrastructure and updated mining policy required to keep pace with growing EV demand and regulatory requirements
WASHINGTON, DC – In advance of President Biden's visit to the Detroit Auto Show, the Alliance for Automotive Innovation released its latest analysis of the U.S. electric vehicle (EV) market for April, May and June of 2022. The Get Connected Electric Vehicle Quarterly Report for Q2 summarizes EV sales, purchasing trends and public charging infrastructure across all 50 states.
John Bozzella, president and CEO of the Alliance for Automotive Innovation, said: "Another quarter of EV growth in the United States indicates the demand for these transformative vehicles continues to ramp up. More than 80 EV models for sale today – across all vehicle types and manufacturers – is one additional sign that automakers are committed to electrification. That's the good news."
Q2 2022 key takeaways:
EVs represented 6.6 percent of new light-duty vehicle sales in the second quarter, including a record 8 percent in June;
More than 224,000 EVs were sold in the U.S., an increase of 2.83 percentage points over the same period in 2021;
83 EV cars, utility vehicles, pickups and van models now available for sale in the U.S.;
Total of 100,111 public charging outlets in U.S.; (context: 420,000 EVs registered since beginning of 2022 and only 12,000 new chargers – a ratio of 33 vehicles for every public port);
Top five for EV sales through the first half of 2022: California (18.3 percent); the District of Columbia (12.7 percent); Washington state (10.3 percent); Oregon (9.5 percent); and Colorado (8.9 percent);
EVs still account for just under one percent of all registered light-duty vehicles on U.S. roads.
Bozzella added: "The data on public charging remains an area of concern and something the White House is rightly focused on. We're not adding public charging in this country nearly fast enough to keep up with EV sales. That's the key to overcoming range anxiety and to convincing drivers who might be on the sidelines that going electric is right for them. Continued attention on manufacturing incentives, mining reform and semiconductors must also stay at the top of the administration's transportation agenda. Getting the right public policies in place as quickly and smartly as possible is going to be necessary to take this market from six percent to 15, 25 and eventually 50 percent by the end of the decade."
The California Electric Vehicle Charging Infrastructure Assessment projects the necessary ratio of EVs to chargers at approximately 7:1. California has nearly one-third of the nation's charging infrastructure.
EV charging infrastructure: Recommended Attributes for EV Charging Stations (released in December 2021) outlines a comprehensive framework for federal and state-level investment to meet the needs of current and future EVs, including recommendations on interoperable connectors, payment methods, accessibility, station layout and more.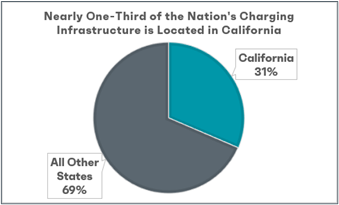 Automakers have already committed nearly $100 billion to expand the production of EVs inside the U.S. and across North America. This includes recent announcements locating raw material and EV battery component operations across the Midwest and Southeast.
Read the Q2 2022 Get Connected Electric Vehicle Quarterly Report.
Previous Get Connected EV market reports available here.