Alliance for Automotive Innovation today released its exclusive state-by-state analysis of the U.S. electric vehicle (EV) market for Q2 2023.
The Get Connected Electric Vehicle Report for the second quarter summarizes EV sales and purchasing trends across all 50 states. It includes an analysis of public charging and costs to modernize and upgrade electric utility capacity in the U.S.
More EV models on market; sales up sequentially and year-over-year
103 EV cars, utility vehicles, pickup trucks and van models now available for sale in the U.S. in Q2 2023. Light truck sales represent 74 percent of EV market;
EVs represent 9.1 percent of new light-duty vehicle sales in Q2 2023, up from 8.6 percent in Q1 2023 and 6.6 percent in Q2 2022;
Nearly 355,000 EVs sold in U.S. in Q2 2023, a 58 percent increase over Q2 2022;
Top five list for EV sales in Q2 2023: California (25.9 percent); District of Columbia (18.7 percent); Washington (17.2 percent); New Jersey (13.5 percent) and Oregon (13.4 percent).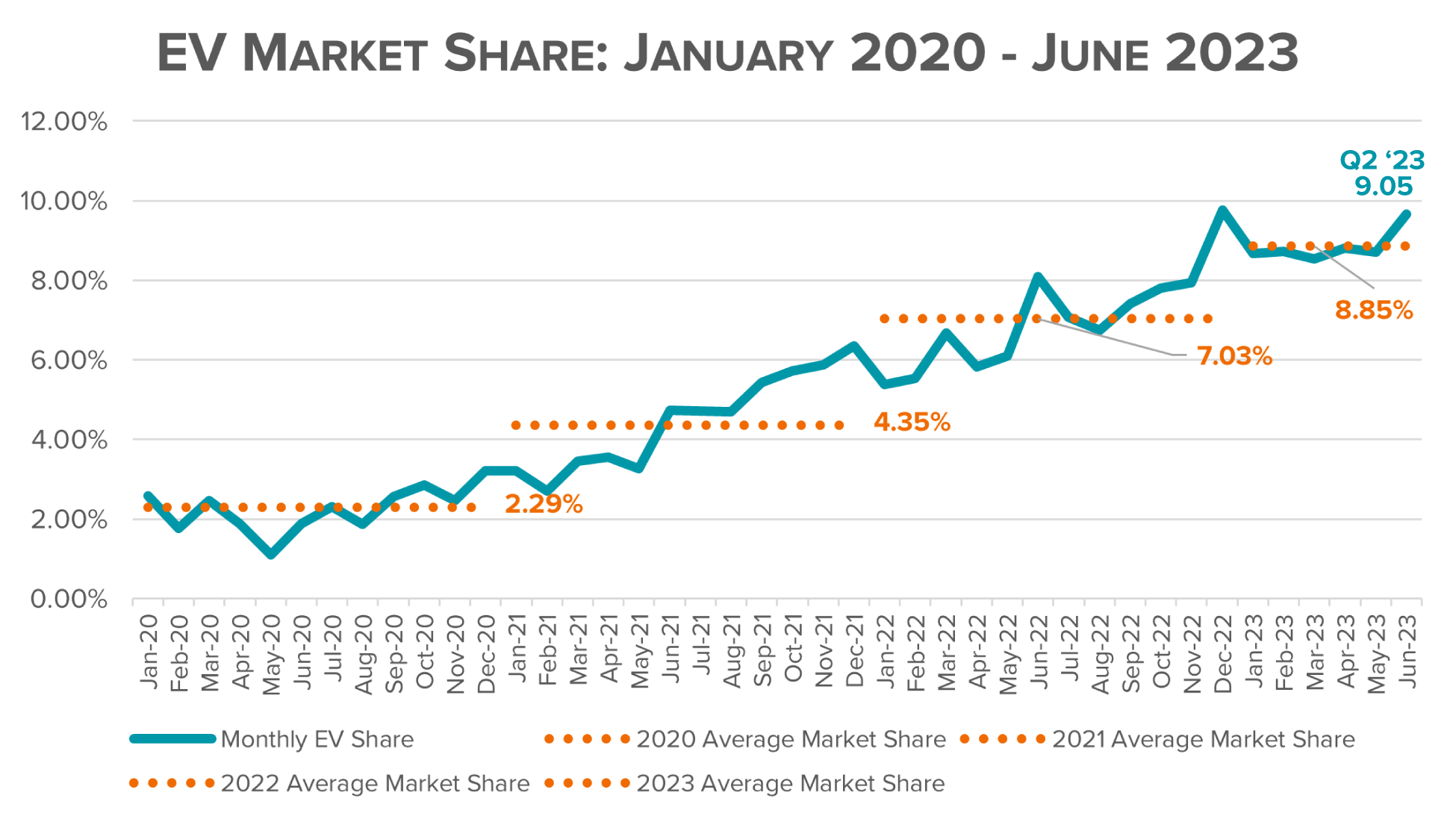 Public EV charging still lags; gap widens
Installation of U.S. public chargers is not keeping up with current and projected EV sales;
In the first half of 2023, the number of publicly available EV chargers increased 11 percent year-over-year – while EV sales increased 57 percent;
Nationwide, 354,879 EVs registered in Q2 2023 but only 7,271 new public chargers added – a ratio of 49 EVs for every new public port. (There were 39 EVs for every new public port in Q1 2023);
Total of 140,171 publicly available charging outlets in U.S. for 3.7 million EVs on the road – a ratio of 26 EVs per charger.

Electricity usage will jump; grid modernization required
By 2030 EVs (including buses and commercial trucks)

will increase

U.S. electricity usage by 8 to 13 percent over 2021 levels, reaching 7 to 11 percent of all power consumed from the U.S. grid in 2030;
In 2021, EVs

accounted for

less than 0.2 percent of power consumed in the U.S.;
An estimated $1,700 to $5,800 in electric transmission and distribution upgrades

will be required

for every EV sold through 2030.
Automakers and battery partners have committed $115 billion (so far) to expand the production of EVs and batteries inside the U.S. and across North America. A successful transition to electrification – and meeting government requirements – depends on factors outside the vehicle.
Read the full Q2 2023 Get Connected Electric Vehicle Report.
Sign-up to receive Get Connected EV reports HERE.