Take a look at sparse car dealer lots around the country and you'll understand what the global semiconductor shortage has meant to auto inventories and production.
This chart tells the story.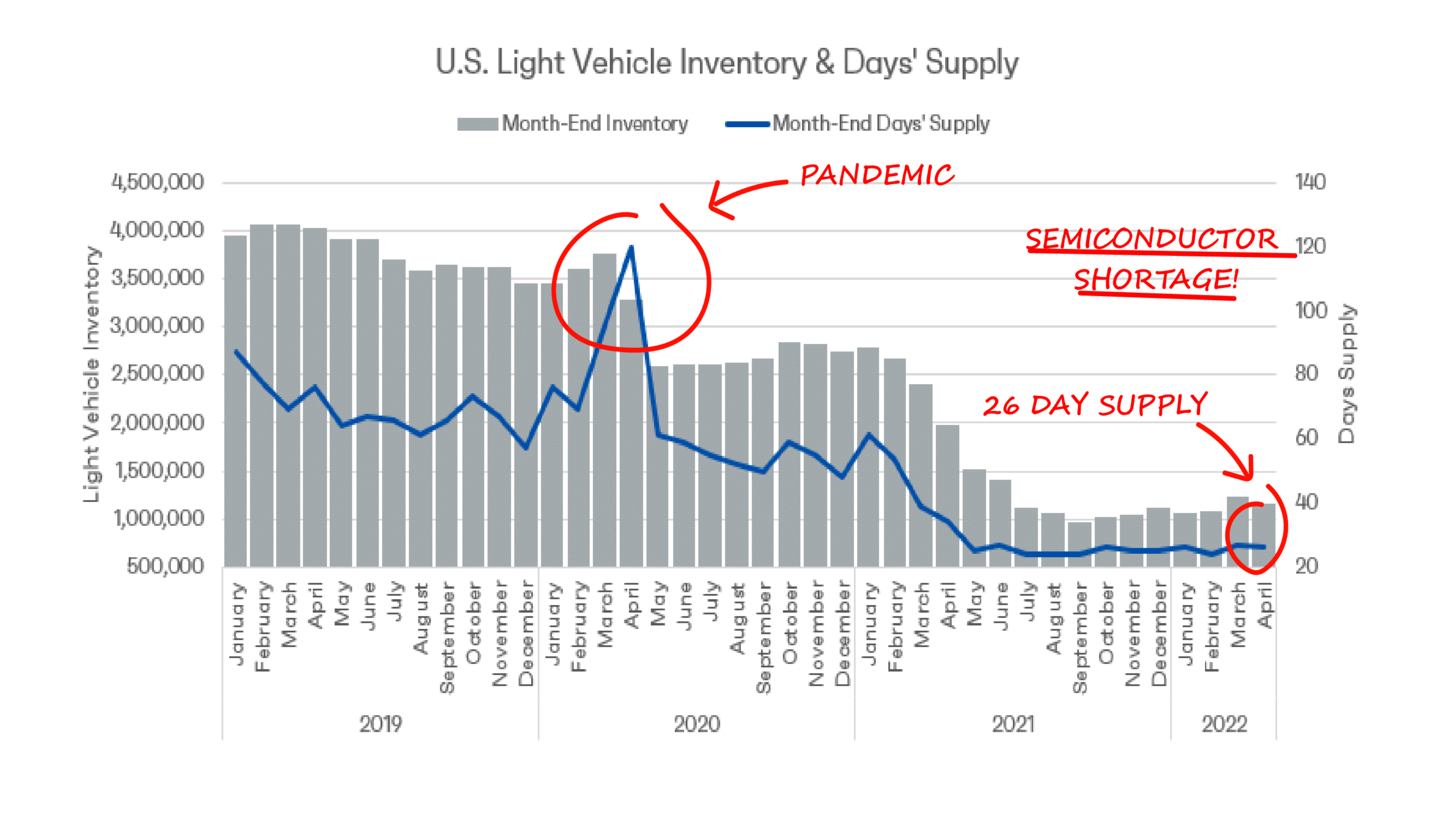 Pre-pandemic, U.S. auto inventory hovered between 60-80 days.
Auto inventories began a sharp decline in April 2020 when the pandemic completely shut down auto production in North America for eight weeks. (You'll see a temporary inventory spike… and then a big drop around this time as car dealers closed and customers were stuck at home).
Alright, so industry production restarted quickly, but by the end of 2020 the giant disruption to global supply chains created a follow-on crisis: a massive semiconductor shortage that again scrambled auto production around the world.
Since the chip shortage started, manufacturers have been forced to stop production or park nearly finished vehicles as they wait for semiconductors. It's still happening today.
And you can see the impact of those shortages on U.S. inventory if you go back to the chart.
· Average nationwide supply of vehicles in 2019: 69 days.
· By 2021? 32 days.
· So far in 2022? Just 25 days of inventory on average.
Again, we're clearly not yet through the current chip crisis which industry analysts project could drag into 2023… or 2024.
While auto production still lags pre-COVID production levels, we don't know when – or if – another global disruption or additional supply chain challenges could happen. Let's hope not.
But the world's supply chains have been exposed as uniquely vulnerable, so we're well advised to get prepared.
That's why swift enactment of the competitiveness package before Congress – particularly funding for the CHIPS Act with $52 billion for DOMESTIC chip design, research and manufacturing – is a smart and proactive move supported by policymakers on both sides of the aisle.
Other countries are actively taking steps to get ahead of the United States on semiconductor production. If we move quickly and invest in chips today, the country will be in greater control of its own destiny tomorrow – not to mention less reliant on foreign suppliers and governments. It's a solid recipe for job growth, economic security, stronger supply chains and tech leadership.
Considering the computing power of today's vehicles, getting a bipartisan competition bill – with billions in domestic semiconductor investment – signed and out the door will be a big, big boost for American competitiveness in the years ahead.